Poster prize
MEDEP Poster prizes go to Edinburgh, Berlin and Grand Rapids
We are excited to present the poster prizes awarded at the 2022 Max Planck Freiburg Epigenetics Meeting presented by the the SFB CRC992 »Medical Epigenetics« (MEDEP)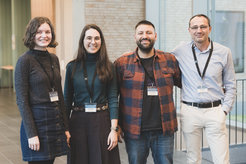 The Max Planck Freiburg Epigenetics Meeting has become an established meeting place for high-profile scientists from all over the world. It therefore provides a great opportunity for companies to advertise their involvement in the ever growing field of Epigenetics.
For many participants this was the first onsite meeting that they attended since early 2020 which made it very special. It was a fantastic opportunity to meet in person for the three days full of exciting science, exchanging ideas, presenting latest research, catching up with old colleagues and making new friends.
Poster session
During the two hours live poster session more than 60 international junior scienctists and advanced reasearchers presented research projcts and stories from their labs and stimulated numerous discussions on data and used methods. Their work was then voted for by the poster prize committee consisting of renowned members of MEDEP and speakers of the Epigenetics Meeting: Nicola Iovino (MPI-IE), Nina Cabezas-Wallscheid (MPI-IE), Claudia Keller Valsecchi (IMB Mainz), Sebastian Arnold (Uni Freiburg) and Thomas Manke (MPI-IE) and Stefan Kass (MEDEP) attendees and speakers.
We are pleased to share the three poster prize awards of the 2022 Epigenetics Meeting each endowed with 200 Euros.
Luca Fagnocchi (Van Andel Institute, Grand Rapids, US – Pospisilik Lab)
"A Nnat-buffered epigenetic regulatory axis defines distinct obesity types"
Katharine Furlong (University of Edinburgh, UK – Soufi Lab)
"Using in vitro nucleosome arrays as a model to study OCT4 and SOX2 binding"
Eleni Kanata (Max Planck Institute for Molecular Genetics, Berlin, Germany – Schulz Lab)
"Dissecting the mechanisms of epigenetic memory at the Xist locus"
Congratulations to the winners and thank you to our sponsor MEDEP.